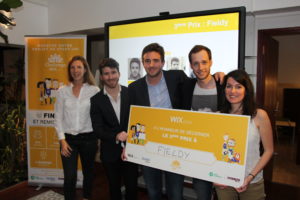 MENTOR & JURY MEMBER OF THE WIX CHALLENGE, 2016
Whose final round happened on July, 4th 2016 in Paris Pionnières, a famous Parisian startup incubator. Jury members included Samantha Jérusalmy (Elaia Partners), Caroline Ramade (Paris Pionnières), Marie Sermadiras (Treatwell), Alix de Sagazan (AB Tasty), Valérie Kalifa (Wix) and Lucie Calschi.
Participants were required to create a new business and design a Wix website in order to introduce their company, project and business model. After 4 months of work, 5 teams were selected out of 240 and could attend the final pitch in front of a jury of experts in business and entrepreneurship.
Wix, Girls in Tech, Paris Pionnières and Agorize organized this entrepreneurial challenge. No matter what their major were – marketing, communications, business, engineering or design – students had tons of ideas! All they needed was a little help to make them real.
In honor of International Women's day, the year's theme was female entrepreneurs who could outlining their individual process, journeys, doubts and success.