2019 RUGBY WORLD CUP, UNLEASHING THE PASSION FOR RUGBY AT PARIS-CDG
Are you a frequent traveler and a sporting events fan? If so, you might have noticed watching a game at the airport does not feel like supporting your favorite team at the stadium or even at home with your mates. No doubt both sharing the moment and the sound system play a crucial part in building the perfect game atmosphere.
On the occasion of 2019 Rugby World Cup which was hosted in Japan from 20 September to 2 November in 12 venues all across the country, we – at JCDecaux Airport Paris and Paris Aéroport – wanted to enhance Charles de Gaulle passengers travel experience by making them enjoy the competition as much as they would at home with pals.
Let's be back at your boarding gate. Wether you're aware of it or not, you're actually in a context of high receptiveness: travel both goes with valued dwell time and arouses the need for openness and connection [Hello World!]. A sense of sharing which is well powered by out-of-home advertising [including in its "service form" like broadcasting live sporting events], the most impactful community media enabling hundreds of people to enjoy a collective emotion as a shared response to a common public experience.
Offering live broadcast of sporting events to its passengers all year long, Paris Aéroport does create memorable unifying times. We now get the match and the crowd, but we still miss the sound system. For the first time during 2019 Rugby World Cup, in partnership with the startup Odiho, we made it possible through a new proof of concept: passengers were directed to equipped boarding areas where they could watch the matches while enjoying the soundtrack after having flashed a QR code with their mobile phone.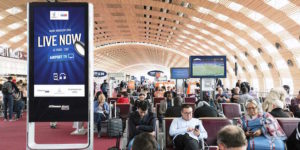 Results? 212 Airport TV Screens, 47 live games, 29 matches with sound system availability, a seamless and user-friendly experience, and the sense of rugby for real.  What else to unleash the passion, except certainly a good cold beer…
Picture copyright (c) Média Aéroports de Paris 2019